ALT(Assistant Language Teacher)の紹介
ジュリウス・チャップマン先生
Hey! How's it going?? I'm Julius Chapman, I work here as an ALT at Toyooka Senior High School. I was born in Hollywood California 27 years ago! When I was growing up, I enjoyed playing video games and watching TV. I still play video games though… maybe I'm still growing up…
I came to Japan for the first time about 2 years ago to study Japanese. During my travels in Japan, I fell in love with the food, culture, and way of life. It was then that I decided to teach English in Japan!
Before coming to Japan, I studied Astronomy and Mathematics at my University back in California. If you ever have any questions please ask me anytime!!!! I may look scary and strange, but I'm a nice person probably!
Oh also I love Hatsune Miku music and Anime.
Favorite Miku Song: シェラ.ソンユ by AVTechno!
Favorite Anime: Jo Jo's Bizarre Adventure: Part II
Alright! Catch ya later!
アメリア・グリン先生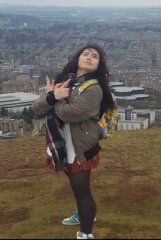 Hiya! What's up? My name's Amelia Glynn and I work as an ALT at Toyooka Senior High School. I am 24 years old and I come from Limerick, a small but beautiful town in Ireland!
I spent my time there studying medicinal chemistry in university, so please hit me up whenever you have any questions! I'd be happy to help anytime.
I first learned about Japan when my house got infested by bugs.. and I went to live with my Japanese family. They taught me about everything from sumo wrestling to tsukemono, and from then on I became enamoured with Japan's culture. I'm super excited to continue learning here at Toyooka!
Okay, that's it from me! My Japanese is a little lacking, but please feel free to talk to me anytime. I'm excited to get to know you, and help you out with your English! Let's learn together.
See ya!