ALT(Assistant Language Teacher)の紹介
ジュリウス・チャップマン先生
Hey! How's it going?? I'm Julius Chapman, I work here as an ALT at Toyooka Senior High School. I was born in Hollywood California 27 years ago! When I was growing up, I enjoyed playing video games and watching TV. I still play video games though… maybe I'm still growing up…
I came to Japan for the first time about 2 years ago to study Japanese. During my travels in Japan, I fell in love with the food, culture, and way of life. It was then that I decided to teach English in Japan!
Before coming to Japan, I studied Astronomy and Mathematics at my University back in California. If you ever have any questions please ask me anytime!!!! I may look scary and strange, but I'm a nice person probably!
Oh also I love Hatsune Miku music and Anime.
Favorite Miku Song: シェラ.ソンユ by AVTechno!
Favorite Anime: Jo Jo's Bizarre Adventure: Part II
Alright! Catch ya later!
アナ・ネイバー先生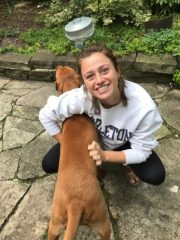 ¡Hola todos! Soy Anna, y soy de los estados unidos.
Me emociona aprender sobre japón y enseñar inglés. ¡Habla conmigo por favor!

Hi everyone! My name is Anna and I'm from Plymouth, Minnesota, in the United States! At my university, I studied Biology and Spanish. One day, I hope to be a doctor. I love sports, reading books, and music. My favorite sport to watch is soccer! I also love dogs, coffee, ice cream, and mochi.
I have always been interested in different cultures. My aunt is Japanese and told me about teaching in Japan. I was excited to learn a new language and to learn about a new culture, and of course, to eat Japanese food.
I had traveled to many countries before coming to Japan, but I had never been anywhere in Asia before. I have really enjoyed living in Toyooka and getting to know everyone at Toyoko! Let's learn English together!