School Emblem and Mottos
■School Emblem

Our School Emblem is made by the integration of the symbols, "髙" and "W".
"髙" stands for High school's "High", and also is a symbol of the triple-layered turret and stone walls of Akashi Castle. It shows that students at Akashi Josai are independent and stand up to any trials like the turret and stone walls.
"W" is the first letter of "west(西)". Its shape reflects Akashi's city flower, the chrysanthemum, and Harima's open sea's waves, which symbolize "deep love" and "far-reaching ideal", respectively.
designed by KANNO, Koya (冠野光冶)
■School Mottos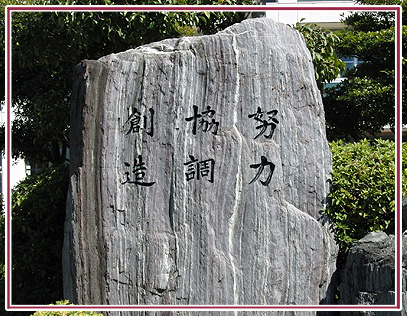 「努力(Diligence)」、「協調(Cooperation)」、「創造(Creativity)」

The Aims of Education
With students at the center, we nurture fundamental human qualities.
Human quality refers to
– academic ability that can lead students to their goals.
– skills of social interaction that involves knowing proper manners such as how to dress and speak appropriately.
– an attitude to cooperate with others and keep making effort toward goals through activities of student's association, club activities, etc…