When: March 3, 2016 from 1:30 pm to 4:30 pm
Where: Himeji Nishi High School (Meeting Room)
Participants: 30 teachers from various high schools in the area
Topics: Japanese, Math and English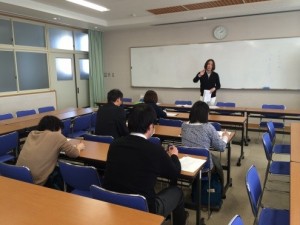 Our school participates in the Super Global High School program in partnership with other high schools and universities. On March 3rd, our school gave an education seminar for high school teachers on how to develop future global leaders and how to help students study for the entrance examinations, for the purpose of helping teachers improve their skills and to promote the further
development and improvement of textbooks.
   At the beginning of the conference, our vice-principal, Atsushi Kimura, reported on the current situation of SGH at our school and talked about the activities we have been doing. In the seminars for each subject, lecturers from Kawai-juku discussed what skills schools like Tokyo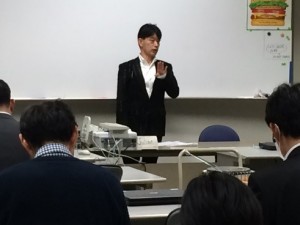 University or Kyoto University are looking for. The seminars were a good opportunity for teachers to get information on problems with the new curriculum and to talk with teachers from other schools. The teachers were able to understand the importance of improving their own teaching skills and the content of the textbooks.